Payments and Financial Aid
Payments
Registering for a course constitutes an agreement to pay for it. All registrations received will incur a minimum fee of $150, even if a registration is subsequently withdrawn or if the student drops the course.
Students may pay by credit card (Discover, MasterCard or Visa) at the time of registration. Other payment types will require invoicing:
AmeriCorps:  To use your Segal AmeriCorps Education Award you need to list UT Austin Financial Aid as the beneficiary of payment in your AmeriCorps portal. During the online registration/checkout process select "Check or Other (includes third-party billing)" as your payment method. After submitting your registration notify the UEX Registrar of your intent to use AmeriCorps funds via email at uex@austin.utexas.edu.

Please note that your registration will not be processed until the first payment is received by our office. If you do not have enough funds remaining in your AmeriCorps award to cover the total enrollment cost, it is your responsibility to pay the balance on your registration.  

Check or Money Order:  Make checks or money orders payable to The University of Texas at Austin.  Checks returned for insufficient funds must be cleared by the university's Office of Accounting within ten days of notification. There is a $25 service charge for returned checks.
Military Benefits:  For your registration to be processed, provide your approved Military Tuition Assistance Authorization Form via email to uex@austin.utexas.edu or fax to 512-471-2905.
Veterans Affairs (VA) Benefits:  Please contact the Student Veterans Services at UT Austin (512) 475-7540 for instructions and for processing of your benefits. The VA office will direct you for next steps and work with our office.
Texas Guaranteed Tuition Plan (TGTP):  If using TGTP to pay for a course, select this option in the Payment section of the online checkout process and enter the account number where prompted. After submitting your registration, provide your In-state Enrollment Verification Letter through email to uex@austin.utexas.edu.
Texas Tuition Promise Fund (TTPF):  If using a TTPF to pay for a course, enter the account number into the payment section during the online checkout process. You will also need to provide your Authorized Use of TTPF Benefits-Section 3 from your Texas Tuition Promise Fund account. Include the last four digits of your social security number when you submit this form to our office through email to uex@austin.utexas.edu. 
Financial Aid
Students Only Enrolled in University Extension: Federal or state subsidized financial aid is not available if you are only taking courses with University Extension.
Students Simultaneously Enrolled at UT Austin:  In most cases, University Extension's semester courses can count toward your full course load certification for financial aid and similar certifications as long as you meet the required minimum enrollment hours (6 for Undergrad and 3 for Graduate)and are maintaining Satisfactory Academic Progress (SAP) for financial aid. Contact Texas One Stop for more information.
Self-paced online courses do not count towards enrollment for financial aid purposes.
Students Enrolled at Another School:  If you are receiving financial aid at another institution of higher education, University Extension can issue you a letter at your request certifying your registration. You may include this with other documentation of courses in applying for financial aid, but we cannot guarantee it will be accepted.
Tax Credits and Tax Forms
The IRS 1098T form is issued to students with qualified tuition and fee expenses paid in the previous calendar year. The forms are generated by UT's Office of Accounting and are available to view and print after January 31. Students can retrieve them electronically at My IRS 1098T Tax Form and will receive them by mail at the address on file for the student.
For detailed information on tax credits and deductions, consult the university's Student Accounts Receivable office. Check with your tax advisor about using University Extension courses for educational tax credits.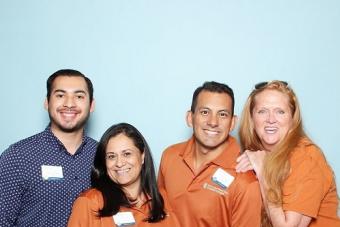 We're Here to Help
Contact our student services team for answers to your questions about registration and payment. 

uex@austin.utexas.edu